Buying a Horse - Essential Track & Training Equipment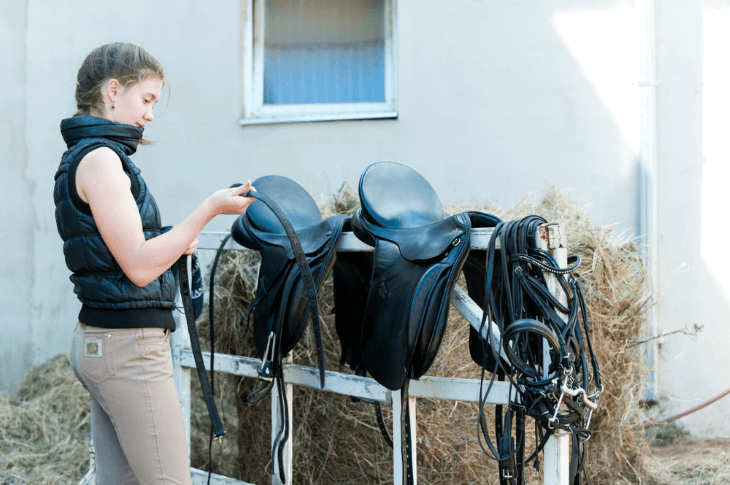 As a horse owner, you should have a clear idea about the various components that you need to own before buying a horse. It can seem like a mammoth undertaking, but, it is not as complicated as you would expect, as most essential equipment such as riding gear, track equipment, and feed can be purchased off the shelf or can be found in your garage as makeshift items. If you are planning on buying a horse, given below are some of the most important considerations, which apply to both first-time and existing horse owners.
The Track & Pen
The main hassle of raising a horse is trying to obtain an open piece of land that is big and flat enough to build a track or a round pen, along with a barn, pasture area, and plenty of open space. Space is an essential consideration in horse training, where the right environment can help your steed to improve its performance over time.
Traditionally, a horse pen averages around 60 feet (18.28 m) in diameter, while the largest one can be anywhere from 80 feet to 100 feet, which can be built in a relatively smaller area. In contrast, a track is much larger, with the average length of the track ranging anywhere from 1 KM to 2.4 KM (0.63 miles to 1.50 miles). Therefore, building a track requires quite a more considerable stretch of land, which can be quite an inconvenience for the average horse owner.
It is always a good idea to own the property outright, as it can provide you with the freedom and flexibility to modify the training ground according to your exact requirements. However, if you are renting out the land, ensure that you sign up for a long-term lease, as it will also provide you with the same degree of freedom that is offered by direct ownership. There are many dedicated construction companies that cater specifically to horse owners, where they are able to bring the latest technologies and track layouts that can help you to train your horse as per the best standards.
Next >>
Feed & Feeding Equipment
The next most important consideration of owning a horse is to have plenty of feed and feeding equipment to cater to your steed's requirements. Different horse breeds have different characteristics that may require different types of feed materials, but horses are known to have pretty small digestive systems when compared to its size. Therefore, it is essential to feed them at regular intervals and provide plenty of fluids. You can purchase ready-made feeding equipment from your local outlet, or you can also use your existing tubs, cans, troughs, and buckets as makeshift feeding equipment. However, you must always ensure that all feeding equipment does not have any sharp edges or rust, are maintained in a neat and clean environment, and that the pasture ground is also free from any toxic materials.
Next >>
Riding & Training Gear
The riding and training equipment should be custom-fit to a horse. Most trainers commit the mistake of buying their riding and training equipment well before the horse matures, which means that there is a high degree of mismatch between the horse's physical characteristics and the actual gear dimensions. Tight or loose riding equipment can diminish the performance of your horse quite drastically, and it can also be quite dangerous from a health perspective. Rider & horse injuries, accidents, and mount-related wounds are all quite common if you don't pay attention to the exact dimensions of the riding gear. Instead of trying to grow your steed into your riding or training gear, you must try to custom-tailor the equipment according to the horse's physical changes. The most common riding and training gear include saddles, saddle blankets, bridles, safety stirrups, harnesses, whips, boots, helmets, ropes, and more.
Next >>
Horse & Track/Pen Maintenance
It is absolutely essential to keep your steed and its surroundings neat and tidy. Unlike in the open country, enclosures are far more susceptible to hygienic problems, which makes it imperative to invest in grooming and maintenance equipment for frequent upkeep. Horse grooming items include a body brush, mane comb, curry comb, hoof pick, breakaway halters, clothes, and fly repellents to keep your equine safe and healthy. Wiping down your steed with a good clean cloth and applying fly repellents will ensure that your horse stays safe from any wounds or infections, all the while making it presentable for eventing and dressage shows. For maintaining the enclosures, barns, and pastures, you can make use of your existing farm equipment such as brooms, pitchforks, wheelbarrows, and such, but you must also clear out all the manure and old hay on a daily basis to avoid the problem of insects and bugs carrying infection to your steed.
Next >>
Emergency Items
It is indeed a good idea to keep some emergency first aid kit for your horse at your home or barn, at least to minimise your horse's suffering while the experts arrive at the scene. Self-sticking bandages, disinfectants, stable wraps, cutters, cotton pads, Epsom salt, zinc oxide or antiseptic creams, and thermometers are some of the essential equine first aid kits that you can purchase from your local store. If the injuries are quite severe, try to calm your horse and never attempt to perform any procedures until help arrives.
Next >>
These are just some of the best ways by which you can make horse ownership a pleasant experience. Of course, it can help if you are able to rope in an expert horse trainer to assist you in your training process, as they will have experience and skills to make it easy for you to maintain your steed in an impeccable condition.